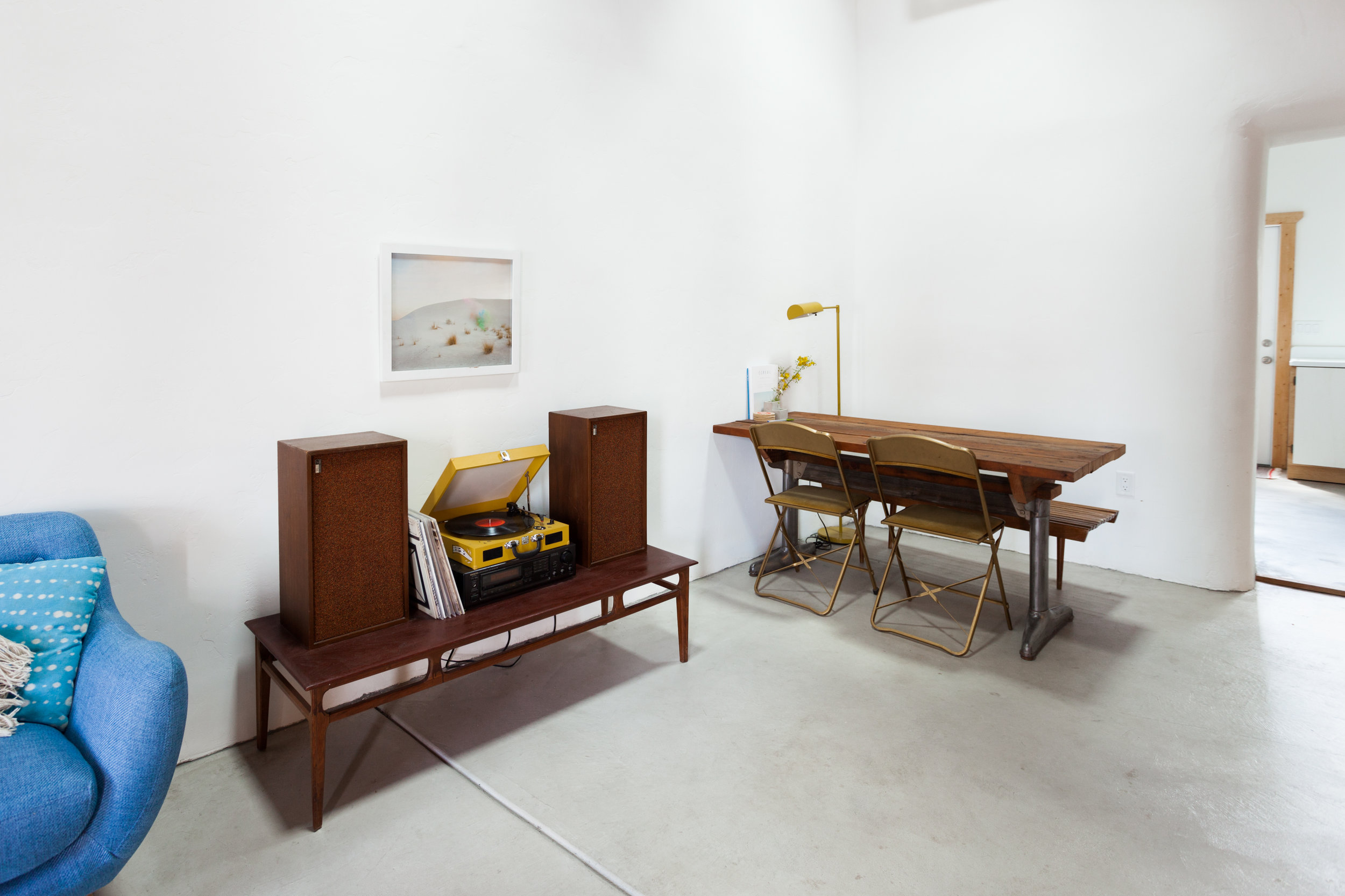 BARRIO HOUSE / TUCSON, AZ
We fabricated custom pieces throughout this beautiful Barrio home featured on Apartment Therapy & as a rental on Airbnb. These kitchen countertops were made with reclaimed maple bowling lane from a local recently closed bowling alley. The maple open shelving with raw steel bracket supports were all custom made and installed (into 18" adobe walls) by us.
Photography: Ellie Arciaga Lillstrom
Barrio house - Modern Adobe featured on Apartment Therapy
Craftsman involved in this project:
Sean Hunter, Andy Littleton, Lynn Hudson
This table was made using reclaimed (dumpster dived) fir ceiling joists from Tucson's beloved Rincon Market (after a fire had caused serious damage & the market had undergone a complete renovation). The base was also reclaimed (curbside find); a steel children's school desk base that required some serious stripping & refinishing as well as creative design augmentation to bring it up to standard dining table height.
A maple drop down edge strip was added to the face of the countertops using dowels for strength & aesthetic.
The clients desired a non-invasive closet space for tenants to use that could potentially serve other functions. The room divider was devised to break up the space & provide that sought-after closet storage. It was constructed with maple plywood and also serves as a bedside nightstand & mountable wall space to hang a mirror & artwork.
This old Adobe home with thick and wavy walls had its challenges. This corner was the most difficult and required some serious scribing (and cutting through old bowling lane compounding the difficulty) to get a nice fit.
We also made the birch light pendant (using an old kick drum shell) and a camping sling chair (prototype) constructed with mahogany and hand-sewn leather back rest.
We built this custom cabinet for the steel countertop/sink and doors the client provided.